Regular price
$139.90 USD
Regular price
Sale price
$139.90 USD
Unit price
per
Sale
Sold out
Our lowest price of the year 🔥
"I have had some concerns about carpal tunnel and have been looking to get away from my traditional mouse. I was hesitant because I thought it would be hard to adapt to a new style of mouse. I was wrong. I have been using the SurfacePoint for a day now and I love it. It is so convenient to use on the go and I can even use it to the right of my surface pro's touchpad."
CES Winning Design

Designed For Microsoft

Patented Design
Features

CES award winning, patented, ergonomic pen-grip design.

Surface Dial: A new way to access the tools you need - SurfacePoint makes you more efficient than ever before. You'll wonder what you ever did without it!

Presentation Clicker: Whether presenting live or via virtual meeting, inspire your audience with advanced presentation tools unlike any other mouse in the world.

Gesture Control: Built-in Gyroscope for smooth zooming, panning, rotating

Designed for Ipad: Connect SurfacePoint, attach a keyboard and your iPad becomes a laptop - it's that easy.

Bult-in health software: SurfacePoint encourages healthy mouse use andincludes built in health software- utilize our scientifically recommended 'best practice' program, or design your own. Comfort and precision at your fingertips!
Tech Specs

Weight: 24g

Size: Ultra-compact 2.2 x 1.6 x 1.3 inches (5.6 x 4 x 3.3 cm)

Buttons: 3 buttons plus a soft-touch mechanical scroll wheel

Actions: Combine tilt gestures with 3 physical buttons for up to 6 actions

Connectivity: Wirelessly connect to your devices via Bluetooth 4.0.

Sensor: 1800 DPI Optical sensor

Charging: USB Rapid Charge magnetic charger - 60 second charge gives 1 hours use

Battery: Up to 2 weeks on a full charge

Device Compatibility: Windows, MacOS, Android, iPadOS

iPadOS iPad compatibility: Full mouse control with iPadOS 13 or higher
Shipping & Returns

Free shipping in USA for all orders above $150 from our US based warehouse.

All orders are processed within 1 business day of your order being placed.

We ship worldwide, additional shipping and handling may apply.

Tracking information is provided on all orders.

We're so confident you will love your new Swiftpoint mouse. If you are not 100% satisfied simply send it back for a full refund.
Free US Shipping on Orders Above $150

90 Day Risk Free Trial

Perfect For Travel
View full details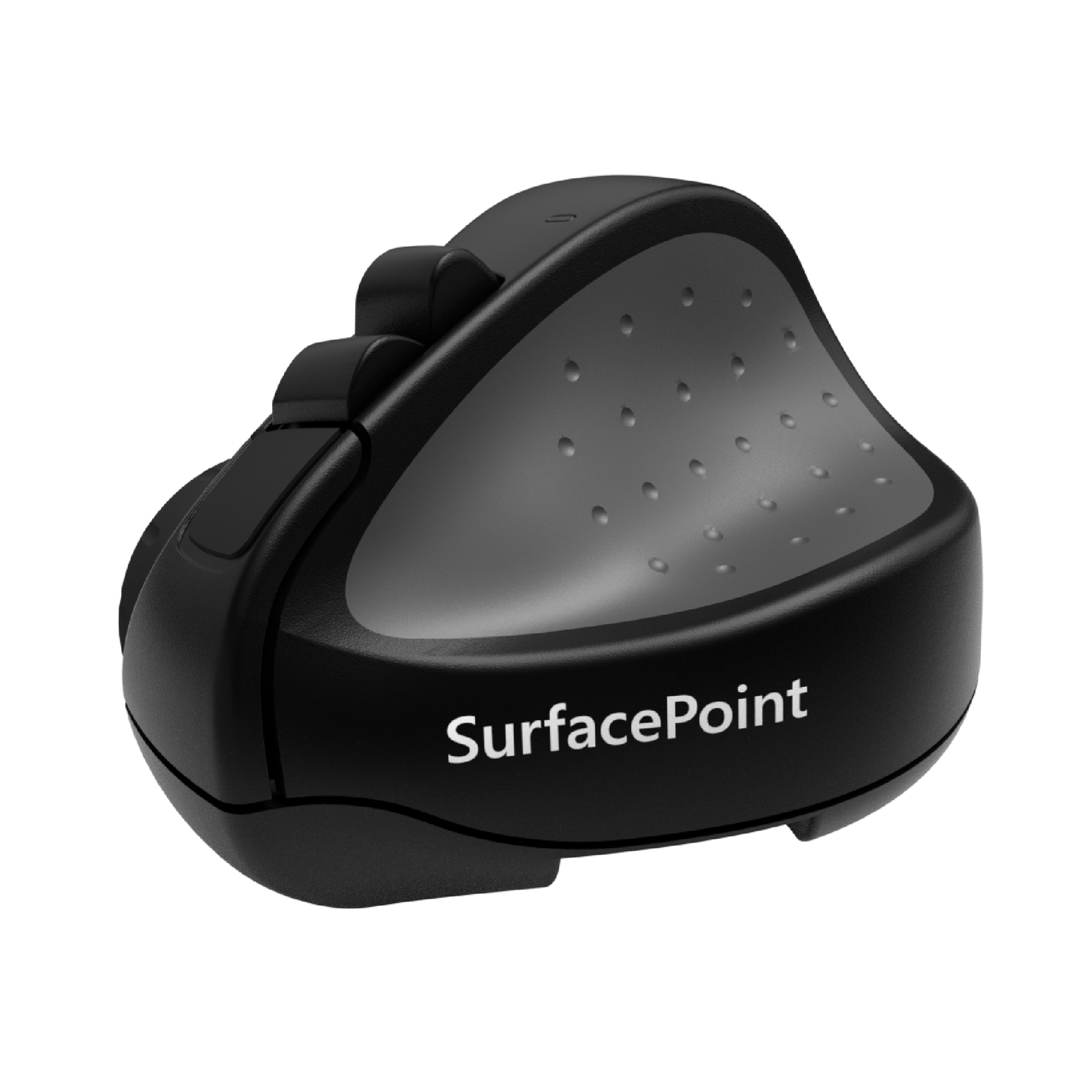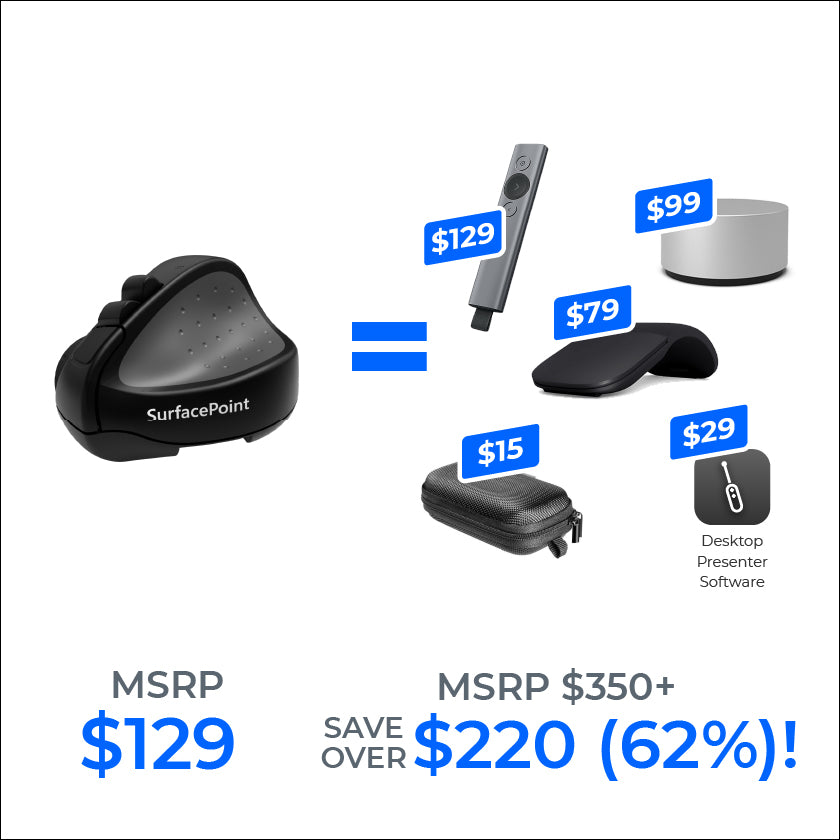 Designed for Microsoft Surface
Present Like A Pro
With SurfacePoint's virtual laser pointer, spotlight, and annotation tools will take your presentations to the next level, impressing clients and colleagues alike. Perfect for working travellers and online tutors.
Productivity Wheel
Access all the shortcuts you can imagine from the click of a button. Use the third button to open your built-in productivity wheel to access copy/paste, screenshots and any other shortcut you can think of.
Take your productivity to the next level

2-in-1 Productivity

"I worked last night on an airplane and definitely increased my productivity. Before getting this mouse I would just use the touchpad, which is so inconvenient."

Perfect for my travels

"My favorite feature of all was the presenter mode, as I was able to present my projects with the mouse and be able to click through my slides, draw on the slides, and even use the laser pointer all very smoothly to go through my presentation perfectly"

Very Customizable

"The features work well on this mouse and it is very customizable. Those who have a tablet who would like a mouse to use with it should look into this device."
Gesture Control
SurfacePoint's advanced gesture controls offer an intuitive and efficient way to navigate your computer. With simple finger movements, you can scroll, zoom, switch apps, and perform a range of other functions without having to move your mouse. Say goodbye to tedious clicking and scrolling and hello to a more natural and seamless computing experience with ProPoint.
Fantastic as always
I love Swiftpoint and have used them for several years. I will continue to use them. Thank you for creating something that is practical and useful for the everyday user.
Excellent travel mouse
Excellent mouse. Great for travelling, especially on flights when cramped for space. I like how easy it is to switch between using it for different computers as well.
Pain gone!
Although it takes a bit of getting used to, I can now work all day without my index finger knuckle getting sore.
Fantastic little piece of technology.
Every thing about it works very well. It's comfortable and possibly actually as light as a feather. The charging is a smart little thing too. As usual, Swiftpoint knocks it out of the park. This is my second product, after the Z, and it's fantastic.
It is mildly uncomfortable after an hour's use when first starting out. Also, don't grip it tightly. That helped a lot.
Really Nice
I love this mouse. It is easy to set up and super easy to use. Makes it a lot easier then poking at my screen.