As Featured in
Peak Performance At Your Fingertips
Maximize Your Productivity
ProPoint's CES award-winning ergonomic pen grip relieves the strain and pain caused by extended mouse use.

Promotes a more natural hand posture and reducing tension in the fingers and wrist.

Feather-light and pocket-sized, ProPoint minimizes problematic movement and makes gliding effortless.
Work From Any Surface
Rely on ProPoint's patented design for optimal performance, no matter where you're working.

With a 60-second rapid charge giving you an hour of use, this cutting-edge Bluetooth and wireless mouse is the ultimate travel companion.
Prevent RSI
Take protecting your wellbeing a step further with ProPoint's built-in ergonomic assessment tool, as it reminds you to change posture and suggests adjustments to optimize your comfort. All this, in a mouse!
Setup and Go
ProPoint's hassle-free setup means no additional drivers or complex installations are required. Just plug it into your laptop's USB port, or pair wirelessly with your iPad, and you're good to go.

Let ProPoint's Productivity Shortcut Wheel accelerate your performance.

With a rapid-access menu of your favorite apps accessible within just two clicks - from screenshots, email and calendar to ChatGPT - it's an efficiency essential.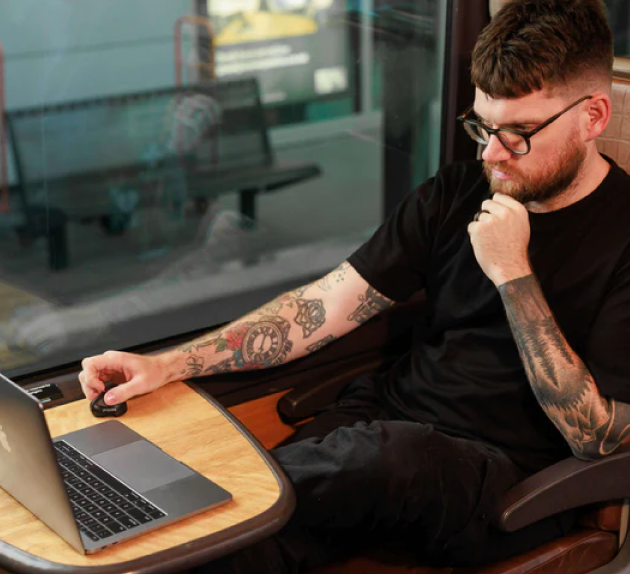 Love It Or Your Money Back
Swiftpoint's 90-Day risk-free, money-back trial is the only guarantee you need. With Swiftpoint's innovative technology, a swipe of the mouse will quickly and precisely take you wherever you need to go - no need to reach for your touch screen or click on a scroll bar ever again.

But don't take our word for it; Swiftpoint's 90-Day risk-free, money-back trial is the only guarantee you need.
Over 25,000+ Happy customers

"This mouse has great portability and design to meet the needs of a traveler. If you are a traveler and have use for a mouse in your life, this is the product for you."
— Ron Alden

"The best portable, ergonomic mouse made. I have tablets and a Surface Pro 3 and this is the easiest and most comfortable mouse for portability."
— Mobillegadgeteer

"Great mouse. I've used Swiftpoint mice for years. The Swiftpoint is the best yet. Perfect for traveling."
— JC

"I can't imagine going back to my old mouse. I like a fast cursor, and the Swiftpoint means I hardly have to move my hand at all, I can just rest my palm and pivot from the one spot. It's also great when I take my laptop to meetings"
— Peter

"Best travel size mouse…I would give a 5 star rating just for the form factor."
— Mobillegadgeteer
Transform The Way You Work
Full stand-up presentation clicker
Travel Without Compromise
Full Windows gesture support built-in
Productivity Shortcut Wheel
Patented ergonomic design