PRE-ORDER YOUR SWIFTPOINT Z2 ON INDIEGOGO TODAY
The World's Most Advanced Gaming and Productivity Mouse.
Building your dream gaming or creative setup? The Swiftpoint Z2 pushes the boundaries of what a gaming and productivity mouse can be. With 13 customizable buttons, deep-click technology, a built-in gyroscope, haptic feedback, RGB and a world-class software suite - it truly is the world's most advanced computer mouse! Available to pre-order today on Indiegogo.
CES Winning Design

Over 1m+ Raised

Patented Design
Features

Premium hardware, world-class software & pre-loaded game profiles

13 Programmable Buttons, 5 Pressure Sensors, 2 Side Buttons, 26,000 DPI, Omron Mechanical Switches, Onboard Memory, Pre-made Game Profiles & RGB. Compatible with PC & Mac.

It's Time To Change The Game The Z is Swiftpoint's highly advanced premium gaming and productivity mouse, designed to help you play better and win more.

Awesome Driver Software - Powerful, customizable, yet intuitive & easy-to-use.

Auto Game Detection - Expert profiles auto-loaded – play straight out of the box.

International Award-Winning Design.
Tech Specs

Sensor resolution

50 – 26,000 DPI, 5G Pixart PAW3390

Gyroscope and Tilt Functions

Tilt your mouse to perform extra functions

Max polling rate

1000hz

Braided cord

Cable length 6.8 feet (2.1 meters)

Mouse buttons

13 uniquely placed physical buttons for effortless clicking, many more button actions when including deep clicks

Wired

Reduced latency to maximize your precision and performance

Dimensions

5.12" x 3.54" x 1.57" (13 x 9 x 4 cm (L x W x H))

Weight

4.125 ounces (117 grams) – without cable

Supported OS

Windows 7+, macOS 10.12+
Shipping & Returns

Free shipping in USA for all orders above $150 from our US based warehouse.

All orders are processed within 1 business day of your order being placed.

We ship worldwide, additional shipping and handling may apply.

Tracking information is provided on all orders.

We're so confident you will love your new Swiftpoint mouse. If you are not 100% satisfied simply send it back for a full refund.
Free US Shipping on Orders Above $150

90 Day Risk Free Trial

1 Year Manufacturers Warranty
View full details
"We've optimized our firmware to get the maximum performance out of this latest 26k sensor."
- Adrian Gin, Chief Engineer at Swiftpoint
Premium Hardware
The Swiftpoint Z2 is loaded with a Pixart PAW3396 26k Sensor, Omron Mechanical Switches, Transparent Buttons, RGB and wired for latency free gameplay and designing.
The Swiftpoint Z2 features the advanced Pixart PAW3395 gaming sensor, providing unparalleled precision, speed, and responsiveness. With a range of 50-26,000 DPI and 650+ ips, it offers next-level accuracy and consistency at the all-important 1000 Hz polling rate.
Comfort Redefined
Ergonomically designed to perfection, the Swiftpoint Z2 is the ultimate mouse. Built for precision, it features side wings that reduce drag and improve control, allowing you to tilt with ease. With perfectly positioned buttons and customizable caps and tilt feet, the Z2 is a finely crafted instrument that fits like a glove.
"This Is Not Just A Peripheral Device. This Is The Second Version Of A Game Changing Invention."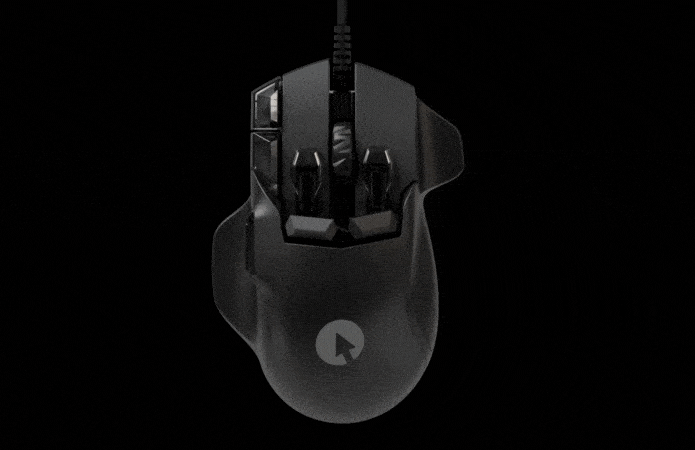 Customization
Customize the Z2 mouse for optimal gameplay and workflow with 13 fully customizable buttons, pressure sensors, gestures, and thousands of programmable actions. Save profiles and customizations directly to your mouse. The Z2 adapts to your style of work and play!
OLED Display
The Swiftpoint Z2 stands out with its unique OLED screen, providing endless customization options. You can display customized messages or show various mouse settings such as DPI and tilt angle. This feature allows you to make your mouse truly your own.
Deep Click
Deep Click on the Swiftpoint Z2 allows you to assign multiple actions to a single button, which can be customized to streamline your gameplay and workflow. With haptic feedback, you can feel the level of deep click you have activated. Examples of widely used multi-button combinations include right-click to aim down sights, press harder to steady aim, and press even harder to drop DPI, or left-click and drag to make a selection, and press harder to copy or cut it.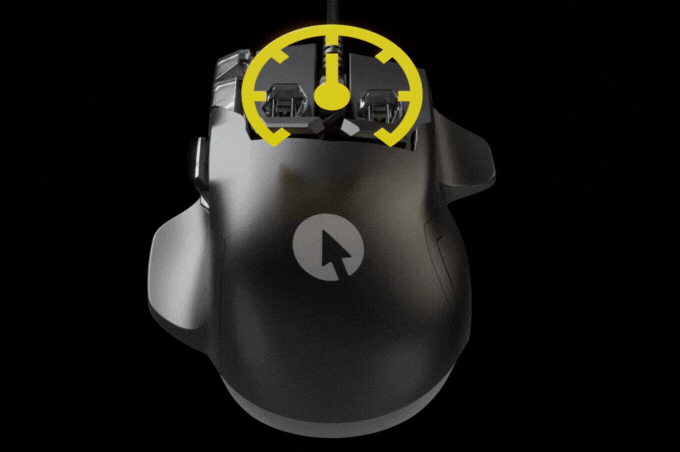 Gyroscope and Tilt
The Swiftpoint Z2 isn't just a standard mouse; it's also a controller. With its built-in accelerometer and gyroscope, it offers you true analog controls like a joystick, space mouse, or Surface Dial would.
Its analog tilt functionality allows you to lean your character, make analog adjustments when driving, or even fly a plane using the 3-Axis Extender attachment. With this feature, you can easily move around the game environment or navigate your work in a natural and intuitive way, giving you a more immersive and productive experience.
The Swiftpoint Z2 truly blurs the line between traditional mouse and gaming controller, providing a unique and exciting way to interact with your computer.
The Best Peripheral I Have Ever Invested In
"The Swiftpoint software features extensive and highly open customization of every button."
X1 Control Panel
Swiftpoint Z2 not only sets a new standard for computer mice, but it also raises the bar for software. Introducing the new X1 Control Panel - with a sleek design, improved functionality, and new features that perfectly complement the Swiftpoint Z2. The UI has been enhanced with a clean, dark theme that is easy on the eyes and user-friendly.
The X1 Control Panel is your go-to destination for customizing pre-made game and design profiles, creating your own profiles, updating firmware, and staying up-to-date with the latest features. It is available for both Windows and Mac, ensuring that you have complete control over your Swiftpoint Z2 experience regardless of your operating system.
Surprising customer service
The mouse itself is phenomenal, as is the software and the functionality once you get used to it. It's quite intimidating at first but it's worth diving into. Once you use this mouse, it's almost impossible to go back to anything else. I left a two star review because the durability wasn't there. After about a year or so I had three buttons fail on me. I was contacted by their support team almost immediately, and they are working with me diligently to ship my mouse back for repair. I am quite surprised by this level of support for their product. Maybe I was a bit harsh with the two star review, so I am updating with this one. Again, once you've used this mouth, you'll understand, there's absolutely nothing like it.
Hi There,
Thank you, for the wonderful 5 star review and for resubmitting a fresh review for the Swiftpoint Z. This review is super beneficial as it highlights that we are company that not make premium product but offer a premium service.
We can't wait for you to have many more years of good time and good usage with the Swiftpoint Z.
Warm regards
The Swiftpoint Team.
The only mouse permited in your house! The mouse you want, the mouse you need!
If there is something to talk about innovation, this particular product the Swiftpoint Z basically proves that innovation with such detail and craft is very much possible if you want to revolutionize a product.
I was recommended this by a colleague who had used other products from Swiftpoint company and I found a very very veryyyyy sweet deal that indeed made me purchase this immediately.
This mouse is what you want it to be, it will do what you want it to do, want a combo? a macro? a per application profile? name it and you can do it! has a bit of a learning curve to tune it to your needs but man it is hella sweet once you see it achieve what you wanted it to do.
I already pre ordered the new Swiftpoint z2 one for myself and one for a friend. I cannot wait for it to arrive. I just hope that the future versions z3, z4 etc, comes wireless, and that this company never stops innovating.
Mouse is 5 stars; can I give a 6th for service?
This is unquestionable the best mouse I've ever had the pleasure to own, based on 3-4 years of active use for gaming, work, and everything in between. It's already a class all its own, but Swiftpoint itself as a company is on another level. Any time I had an issue with the mouse (usually self-inflicted, with my tendency to be rough with electronics and not clean them nearly enough with 3 household pets), they were on the ball in getting me the information, parts, or procedures I needed to get the mouse in top shape again, usually responding in the space of a single day with some of the most informative tech help I've ever gotten.
Most recently, when I mistakenly damaged the optical sensor, they cleaned up and shipped a used, assembled lower mouse piece for an exceptionally reasonable price, and I was up and running in the space of a week and a half (including international shipping). Now I eagerly await my Z2 shipping this fall, and I've got a working mouse for travel. :)
Y'all are the best!
Hi Ryan,
Wow, thank you for your awesome review regarding the Swiftpoint Z.
We have made sure to give our support team a big high 5 for all the incredible support that they have been able to give to you over the years.
We cannot wait to get a shiny new Swiftpoint Z2 into your hands.
Cheers
Sean and the Swiftpoint Team.
The Best Purchase I've Ever Made
I've been using the Swiftpoint Z for 6 years now. I saw it on Kickstarter and really got excited with all the neat and new features that are offered that you can't find in any other mouse. Was a little hesitant as it's a company I've never heard of before back then, but it quickly became the best purchase i've ever made. With the great build quality, excellent features and customer support. What more could you want? Shortly after using it I quickly found out - it's more than just a gaming mouse and use it for all sorts of tasks all over the computer. I recommend this to anyone who's doing more than just - Looking at email, watching videos on the computer, 2D design, 3D modelling, gaming, any type of productivity work. This is the mouse for you and you can't go wrong.
Best of the best
Best mouse I ever had. Very comfortable to use, size is perfect (for big hands, only one mouse I had was even bigger and more comfortable: Roccat Leadr, but that one had ... issues.) and the button customization is incredible.
I use the tilt forward/back and left/right function so switch between different modes and button settings.. Can't think of any way to give a mouse more very distinct buttons (unlike the thumb cluster of the Naga, where you press a million buttons just with your thumb and it's a horrible mess).
Great job!